Posted on February 27, 2010 by Sergey Sek
Minex Central Asia Forum will be held on 16-18 March 2010 at the Radisson SAS hotel in Astana, Republic of Kazakhstan. Minex Central Asia Forum and Expo will become a key annual Mining event for Kazakhstan and Central Asian Region. The general objective of this forum is to illustrate and promote emerging investment opportunities in the Mining Sector of Kazakhstan and Central Asian republics. The forum also aims to provide companies with information about key business / technical / investment and financial factors which will assist them in managing their exploration and mining businesses in Central Asia.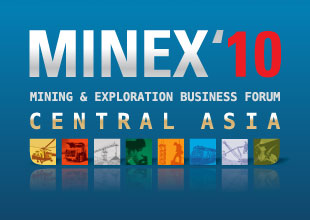 Over 60 prominent speakers from largest mining companies, ministries, investment banks and mining consultants from Kazakhstan, Russia, Uzbekistan, Kyrgyzstan, Mongolia, China, Australia, United Kingdom and Canada will be presenting at the Minex Central Asian Mining & Exploration forum.
For more information about the forum's agenda and information on how to participate in the forum please visit: www.minexasia.com